Fabiola Méndez Shares Stories with Her Cuatro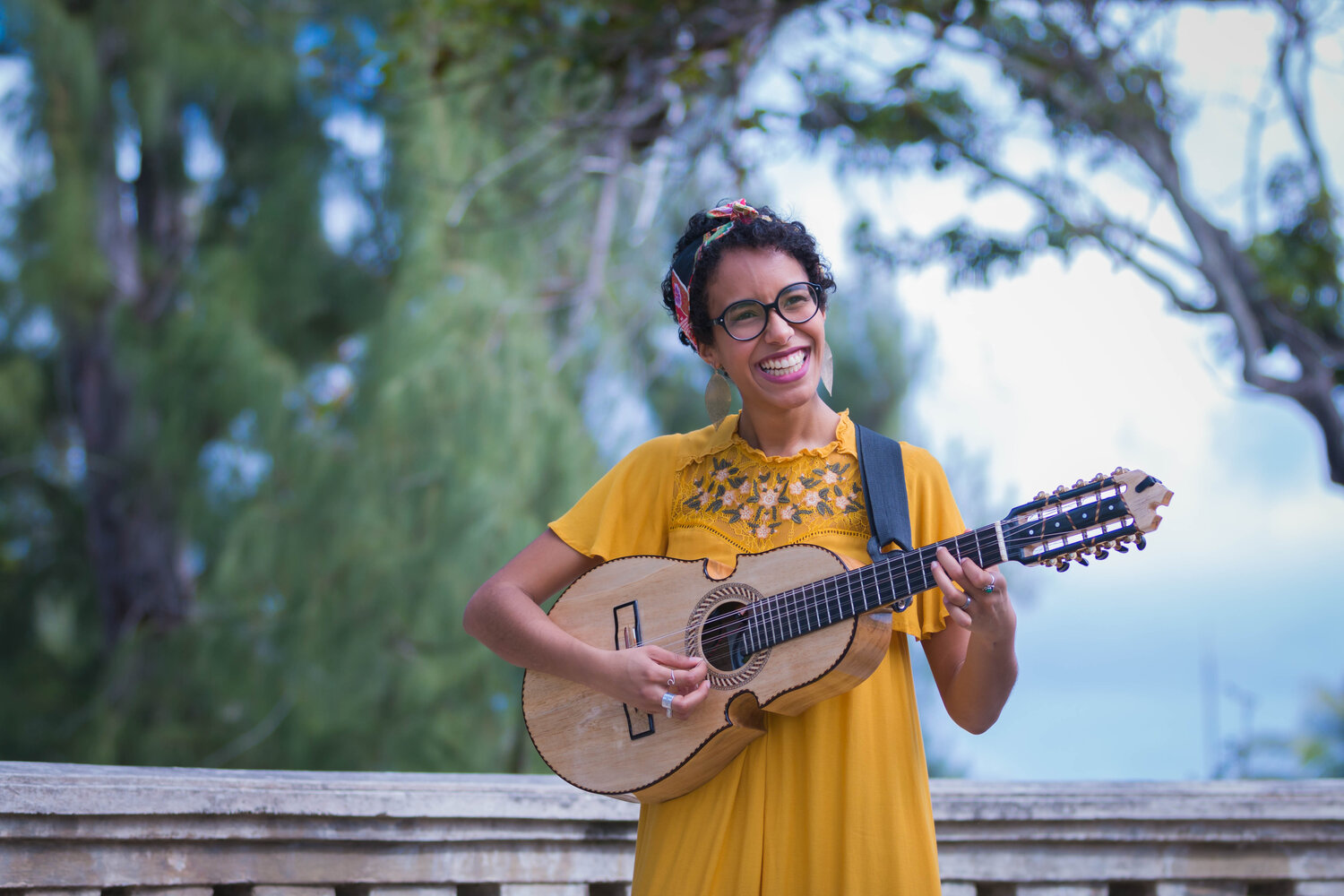 // Photo courtesy of Nuttymar Photography
Last week, WHRB had the chance to interview cuatro player and composer Fabiola Méndez ahead of her performance in the Boston Landmark Orchestra's "Mozart and More" program at the Hatch Shell on Saturday, August 12 at 7:00 PM. The program features a premiere performance of Fabiola's new work, A través de las aguas, in which she will be joined by young musicians and dancers from the Hyde Square Task Force. The concert will also feature violinist Mariana Green-Hill and guitarist Zaira Meneses. Click here for more information.
WHRB: How were you introduced to the cuatro?
Fabiola Méndez: I first started playing the cuatro when I was six years old. The cuatro is a folk guitar from Puerto Rico, where I'm originally from. My dad used to take classes when he was younger, so there was a cuatro in my house. On my mom's side of the family, they were super into folk music of Puerto Rico, especially around the holiday season, so every family gathering would have music and cuatro players performing. So having that in my environment definitely got me interested in playing. I took private lessons and went to a music school in my hometown in Puerto Rico, and then after I graduated high school I went to Berklee. It's a career that started when I was very young, but I was always learning more about my instrument.
WHRB: What makes the cuatro unique compared to the standard guitar?
Fabiola: In terms of the shape of the instrument, it looks sort of like a cello or a large violin. The modern cuatro has five double strings. The reason why it's called "cuatro," which is "four" in Spanish, is because when they were originally developed in Puerto Rico they had four strings. There were luthiers who would make cuatros with four strings and other cuatros with four double strings, so there was already the tradition of the double string type of sound. The instrument evolved to have five double strings, but we still call it "cuatro." It's played with a pick, which is similar to the electric guitar.
WHRB: What inspires you the most when you're writing music? Are there any specific stories or ideas from your culture that you try to amplify in your music?
Fabiola: Absolutely. My identity and culture are my main inspirations. Creatively speaking, I like to see the beauty in the melodies that I identify with as a Puerto Rican. I also find inspiration in everything that surrounds me but particularly nature. In some of my songs I like to honor Mother Earth and that connection that we all have with one another. I also like to compose my music using my own experiences as inspiration, and I'm hoping that when I share some of these songs, people can say, "Oh, that happened to me, too." It might open spaces for conversation. So I celebrate my heritage, my identity, my culture, but then I also have songs about how I feel socially speaking, in terms of issues with race and gender, bringing those things to the table as food for thought.
WHRB: Have you noticed a difference in the way your music is received by Puerto Rican versus non-Puerto Rican audiences?
Fabiola: I think that when I'm playing in front of a Puerto Rican audience there's that connection of identity, of them hearing the sound of the cuatro and remembering the times back on the island or experiences with their grandparents. This is one of the sounds of Puerto Rico; any Puerto Rican person around the world could hear this instrument and be like "Whoa! That's the cuatro!" But then when I play for American audiences there's this welcoming feeling, this excitement for this new sound and new instrument. People are really curious and excited to learn about what this instrument is and the music, especially since this music is festive and fun. I feel like it doesn't matter if it's in Spanish or not; we all connect through the language of music.
WHRB: Please tell me about your new work, A través de las aguas?
Fabiola: A través de las aguas is a commissioned piece that I facilitated the writing process of for the youth of Hyde Square Task Force. So the project was basically the Boston Landmarks Orchestra using me sort of as a facilitator, as an artist in residence with the orchestra, but also working with the community and helping these kids bring out a lot of the creativity that's within them. So we wrote this piece inspired by the story that they wanted to share. We wrote some lyrics for it, which, of course, was a process of talking about rhyme, verses, and poetry. The song is bilingual. Hyde Square Task Force focuses on the Boston Latin Quarter region, so there are a lot of Latinx students. Then, of course, we played with chords and with colors and then brought all of this to the orchestrator for the Boston Landmark Orchestra, which then made that piece into a huge piece arranged for the full orchestra.
WHRB: Did you have any challenges while you were creating this piece?
Fabiola: Yeah, I think one of the biggest questions was definitely about what to do when you're working with musicians that are not familiar with a lot of music theory. So these students have really good ears, and they are playing a lot in their ensemble in the community center. But they're not taking music theory classes. And for this to work we need to write the music notation for the orchestra to read. So we used Garage Band, which is a computer software in which you have a mini keyboard. And you can basically assign any sounds, any instruments onto the mini keyboard. So that was helpful because that way we could play with the sounds and what the students wanted to hear. And some of them do play piano. As a group we would decide, "Oh, let's do that here," or "Let's not do that." And then I would go home and write the music down that we recorded at the end of each meeting. I would write the music notation for it, and then I would send it to the orchestrator.
WHRB: What is an aspect of the piece that you're really proud of?
Fabiola: I think the fact that they wanted to include different genres of music. The song starts sort of bluesy and then halfway through it it transitions into plena, which is a Latin style from Puerto Rico. It's like a reflective section in contrast with a more danceable, rhythmic chorus section. The fact that they wanted to include that makes me really proud because it reflects not only language wise, that they have Spanish and English, but then stylistically, it also shows American music mixed with some Latin music as well.
WHRB: What's your favorite part of working with the students of Hyde Square Task Force?
Fabiola: Just seeing their motivation and seeing how their faces light up. We've written this—I think it's a seven minute piece—for orchestra. So you know, for them, I think that's huge. I can't even imagine if I were 17 or 16 years old, and something that I wrote in a classroom with my friends was going to be played at one of Boston's biggest outdoor stages, and played by an orchestra. So I think that definitely is an awesome experience.
WHRB: What's something you'd like to tell young Puerto Rican musicians that you wish someone had told you when you were younger?
Fabiola: Well, I think, for musicians in general, it's consistency. Consistency is key, even if you don't see results right away. And I think that's the hardest thing when we're young because we want to see things happen already, and it's like we've been working so hard and nothing has happened yet. But we're so young, and life works in unexpected ways. So I think that being consistent would be my biggest advice to any young musician, which, of course, comes with discipline.
WHRB: Is there one idea that you want to leave the audience with by the end of this performance?
Fabiola: I think it would be hope. A lot of things are happening in our world, but there are still little things like these that are actually big, that make a difference. I am so excited to see these youth get on that stage in front of an orchestra. I feel like that's historic, you know, thinking about European classical music and the concept of it back in the day versus now, having free performances open to the public, including music from all different cultures celebrating one another. I think that's powerful.
// Hillary Jean-Gilles '25 is a producer and staff writer for the Classical Music Department.