Måneskin Delivers More of the Same At TD Garden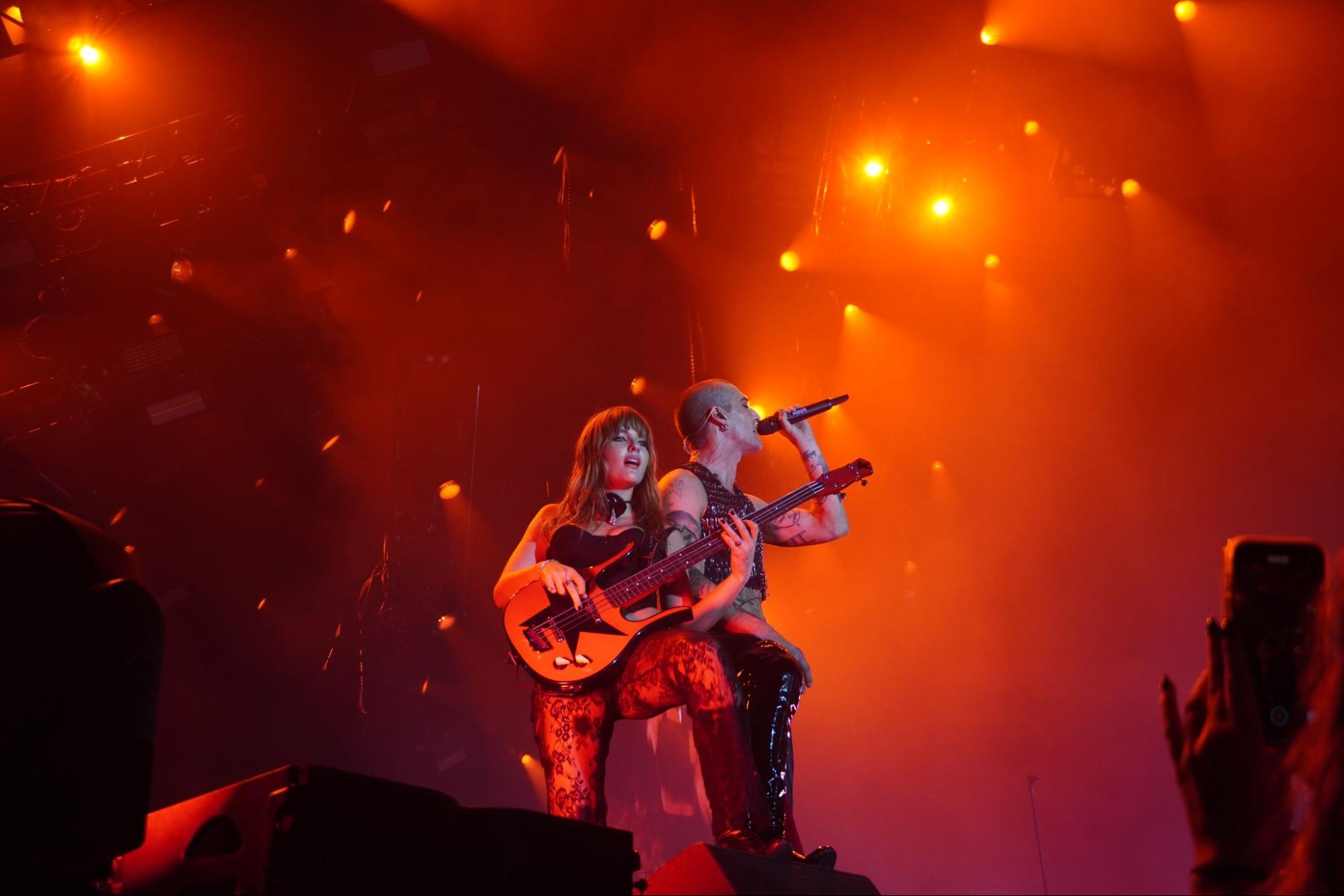 // Photo by Isha Sangani
Nearly a year after dazzling fans at MGM Fenway, Italian rock band Måneskin returned to Boston on September 25 as part of the North American leg of the Rush! World Tour. They traded in their DIY school uniforms for a darker, edgier look and a slightly brasher sound. The band opened with the post-grunge-sounding "Don't Wanna Sleep," played their more more recent hits like "Honey (Are U Coming?)" and "Supermodel," and dove into Rush! and older work before wrapping up with an encore rendition of "I Wanna Be Your Slave," Notably, they played an unreleased song, "The Driver," which has the same rhythmic feel as other works on Rush!
Måneskin comprises Damiano David (vocals), Thomas Raggi (guitar), Victoria "Vic" De Angelis (bass), and Ethan Torchio (drums). The group began playing together as high schoolers in Rome and broke out on the global stage when they won Eurovision in 2021. Their recent album Rush! received some negative reviews, with critics pointing out that the album's provocative hooks and dramatic riffs went unsupported by poppy, clichéd lyrics that rely too heavily on sexual imagery in order to shock listeners. If you, like me, believe that the last truly subversive rock movements died after Nirvana went platinum, you probably listen to Måneskin for their sound and style more than their lyrical substance.
And their sound and style go a long way. Raggi treated the crowd to multiple driving guitar solos, and Torchio and De Angelis gave us drama and flair in the dark, pounding "Gasoline." David's recognizable growl drove forward "I Wanna Be Your Slave" and "Zitti e Buoni." Every song came with a heady dose of thrill.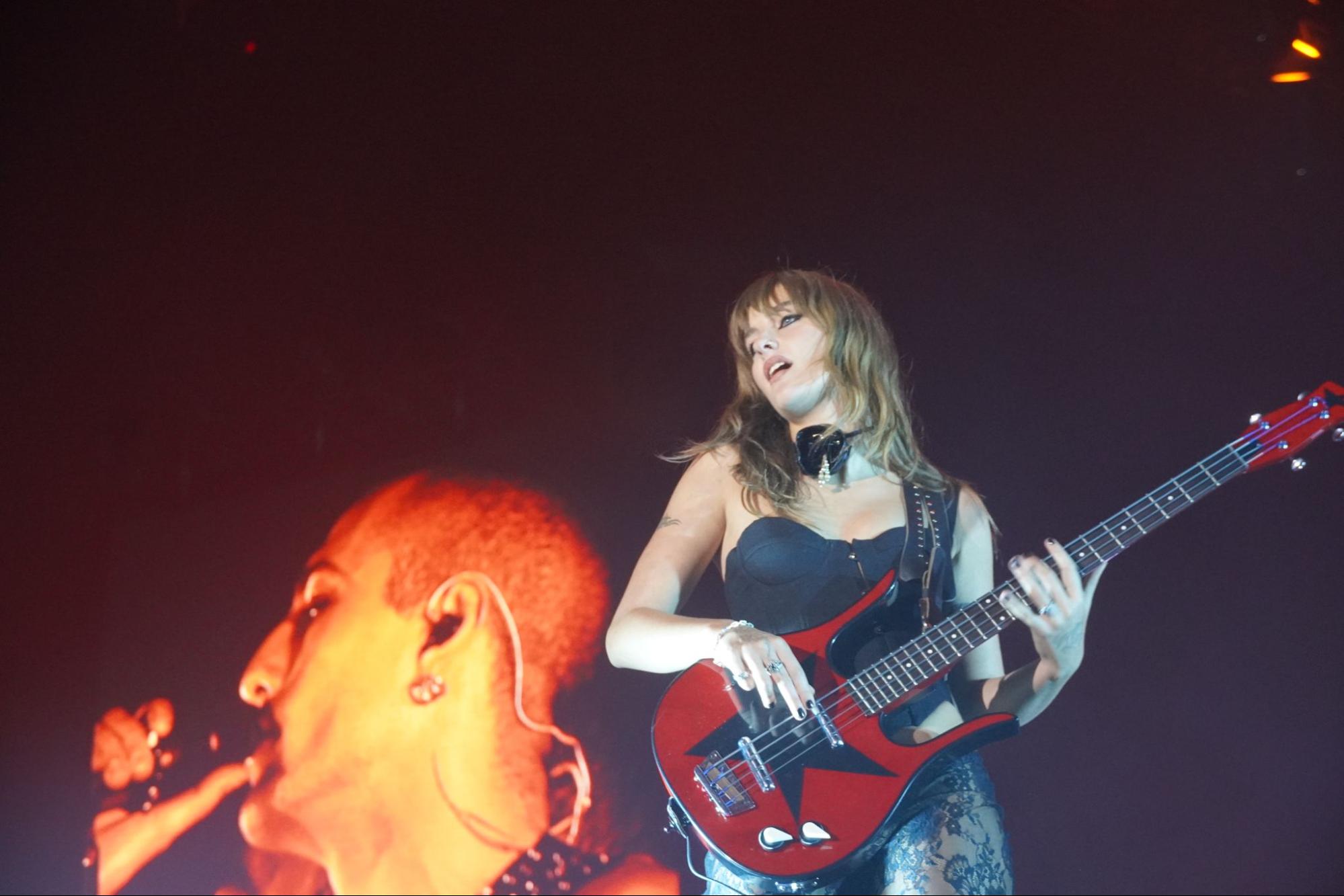 // Victoria "Vic" De Angelis shreds at TD Garden. Photo by Isha Sangani
Even critics of Måneskin's music have acknowledged that the band is capable of delivering electrifying performances that feel intimate in any venue. And while Måneskin didn't disappoint this time — de Angelis, David, and Raggi all crowdsurfed, after all — their approach to banter felt slightly reserved. (The group tends to be more talkative when performing in their native tongue.) An endearing moment of authenticity came when, after crooning the final verse of "Timezone," David admitted to causing Raggi considerable headache by ending the song in a different way every time.
Besides exploring Rush! and previous work, the setlist also featured a growling rendition of Kendrick Lamar's "Humble." David defiantly declared that while others might try to label Måneskin as a rock band, the group doesn't fit neatly into a specific genre. It's clear that the band is still in the process of building their musical identity. As they continue to navigate the complexities of fame and artistic growth, one thing remains certain: Måneskin's live performances will continue to captivate audiences around the world.
// Isha Sangani '24 is a guest writer for Record Hospital.