Thundercat is in Yo Girl's City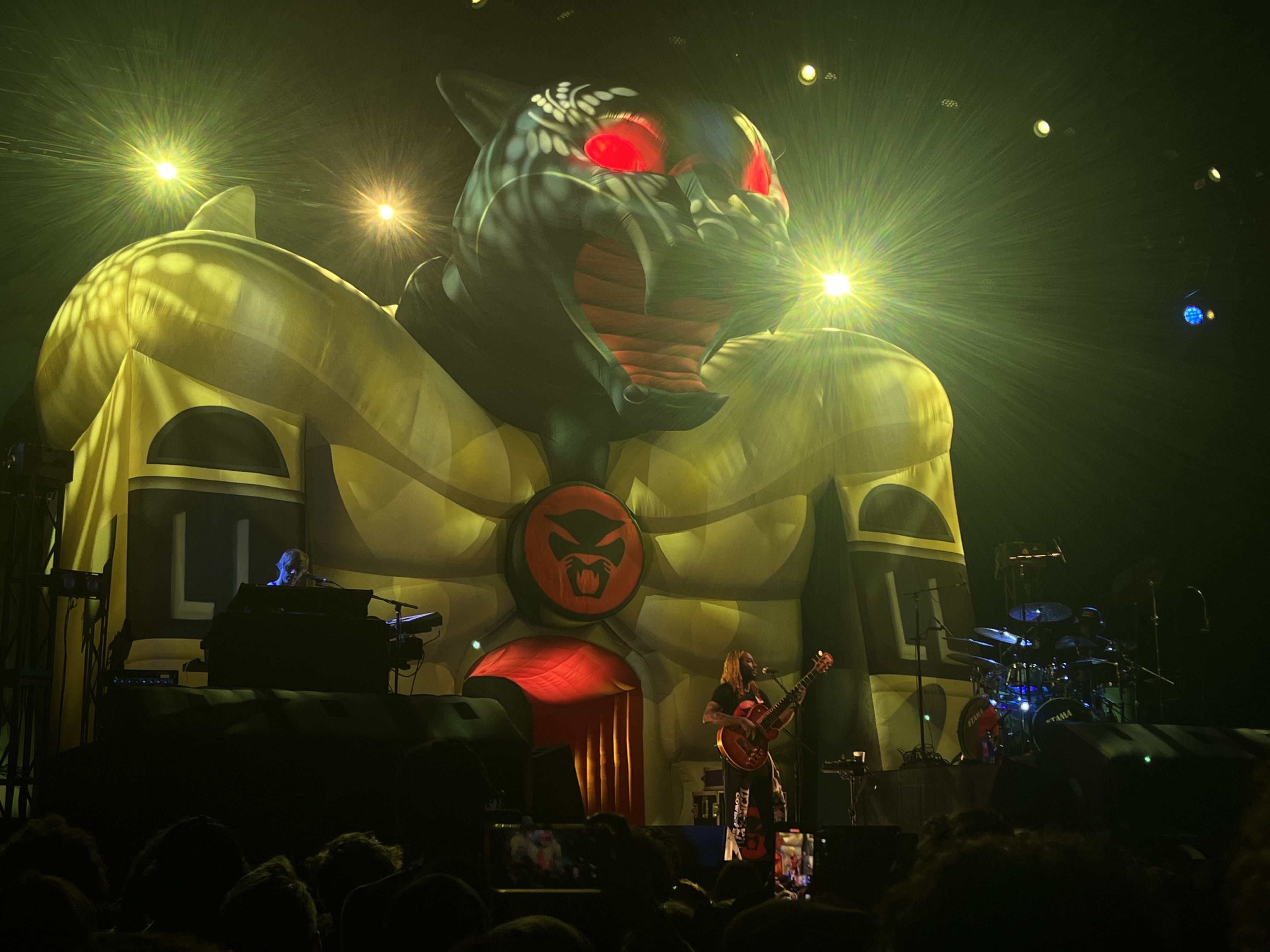 // Photo by Amber Levis
"Is it time to go? Go and start the show?" Stephen Lee Bruner, better known by his stage name Thundercat, asks the audience at MGM Fenway. It's October 15, and after walking onstage to Mac Miller's "Inside Outside," Bruner is opening his set with "Lost in Space/Great Scott/22-26," the lead track to his 2020 Grammy-winning album It Is What It Is.
Moments earlier, Coco & Breezy — an adroit DJ duo and good friends of Bruner's — have set it all up, inviting us to close our eyes, bathe in the light, and take a moment to reflect on the community being made. The eyes of the giant inflatable cat on the stage are glowing red.
We are going on a journey.
Now, Bruner is jamming with drummer-extraordinaire Justin Brown during "Interstellar Love," which bleeds into "How Sway," which bleeds into "Uh Uh." The lines between the end of one song and the start of another have been blurred; it's all part of one continuous thread.
It's easy to hold onto the melodic structure of the studio versions of Bruner's hits and forget just how talented these guys are at improvisation. It's easy, that is, until you see Bruner and Brown make those instruments — so often under-appreciated in four-piece rock bands — talk, really talk. Keyboardist Dennis Hamm floods the room with color and a beat, ironically taking the role a bass normally plays. These three instruments alone fill every inch of the 85,000 square-foot venue.
Like any good artist, Bruner is described as belonging to multiple genres, from funk fusion to yacht rock to nu-metal to neo-soul. And yes, he is all those things.
But this is jazz, pure and simple. The spontaneity and vitality of this show makes it clear that we are witnesses to something unique: not just a performance, but a creation.
And for all the coolness of his composure — for almost half the show he's been wearing sunglasses, casually bantering with the audience between songs — it's clear Bruner has been putting in the work. That giant six-string bass has got to be getting heavy.
By the time we get to "Dragonball Durag," he admits he's tired: "My voice is a little hoarse — been singing a lot." (This is the 14th show on his "In Yo Girl's City" Tour, but don't get it twisted — his trademark reverbed falsetto is still on point). No matter. The audience is excited to fill in the chorus: "Baby girl, how do I look in my durag?" The giant cat behind him glows. "I may be covered in cat hair, but I still smell good," he coos.
We are audience to one of the most talented living bassists today. And all night, he's been singing about cats and video games. And it is awesome.
"It's a song [where] you have to get back into Mortal Kombat," Bruner says. The crowd loves it. For someone who has collaborated with the likes of Flying Lotus, Kendrick Lamar, Raphael Saadiq, Snoop Dogg, Kamasi Washington, and Erykah Badu, to name just a few, Bruner still seems like someone you could hang out and play Mario Kart with. No — he seems like someone who actively wants to play Mario Kart with you. (Am I crazy or was the stage lighting simulating Rainbow Road?)
"I love you guys too," he says to us, and it feels like he means it. The energy from the audience is palpable, and with the constant shifts in dynamics, the crowd goes from shaking and bouncing to swaying and waving in minutes.
Because, after all, Bruner's songs are not just about cats and Call of Duty. "A Message for Austin/Praise the Lord/Enter the Void," the final track on Apocalypse, one of Bruner's heavier albums, deals with the death of regulator collaborator and friend Austin Peralta: "Thank you for sharing your light with the world." Bruner has taken off his shades, and he's shaking his head to the music, eyes upward.
He's known loss; in an interview with NPR just after It Is What It Is was released, Bruner opened up about how deeply the passing of Mac Miller, one of his best friends, affected him, and how in the album, "I'm kind of saying goodbye to him a bit."
At a few points during the show, a few rowdy members of the crowd drunkenly yell at the stage. Bruner suavely replies, "Y'all can't be trolls. We can't all be trolls."
"Check on your strong friend," he adds knowingly before launching into the next song.
"I wish I had nine lives, I bet it feels real nice," Bruner sings on "A Fan's Mail (Tron Song Suite II)." The song — an ode to Bruner's cat Tron (full name: Turbo Tron over 9000 baby Jesus Sally), and one of my personal favorites — somehow gains new valence at this point in the set. It's an ode to everything so far.
"Sitting in the sun, letting the rays wash over me," he sings. The audience meows in unison. Indeed, it seems everyone just wants to be a cat.
// Amber Levis '25 is a staff writer for The Jazz Spectrum.