Light In Cold Water: Youth Lagoon at the Sinclair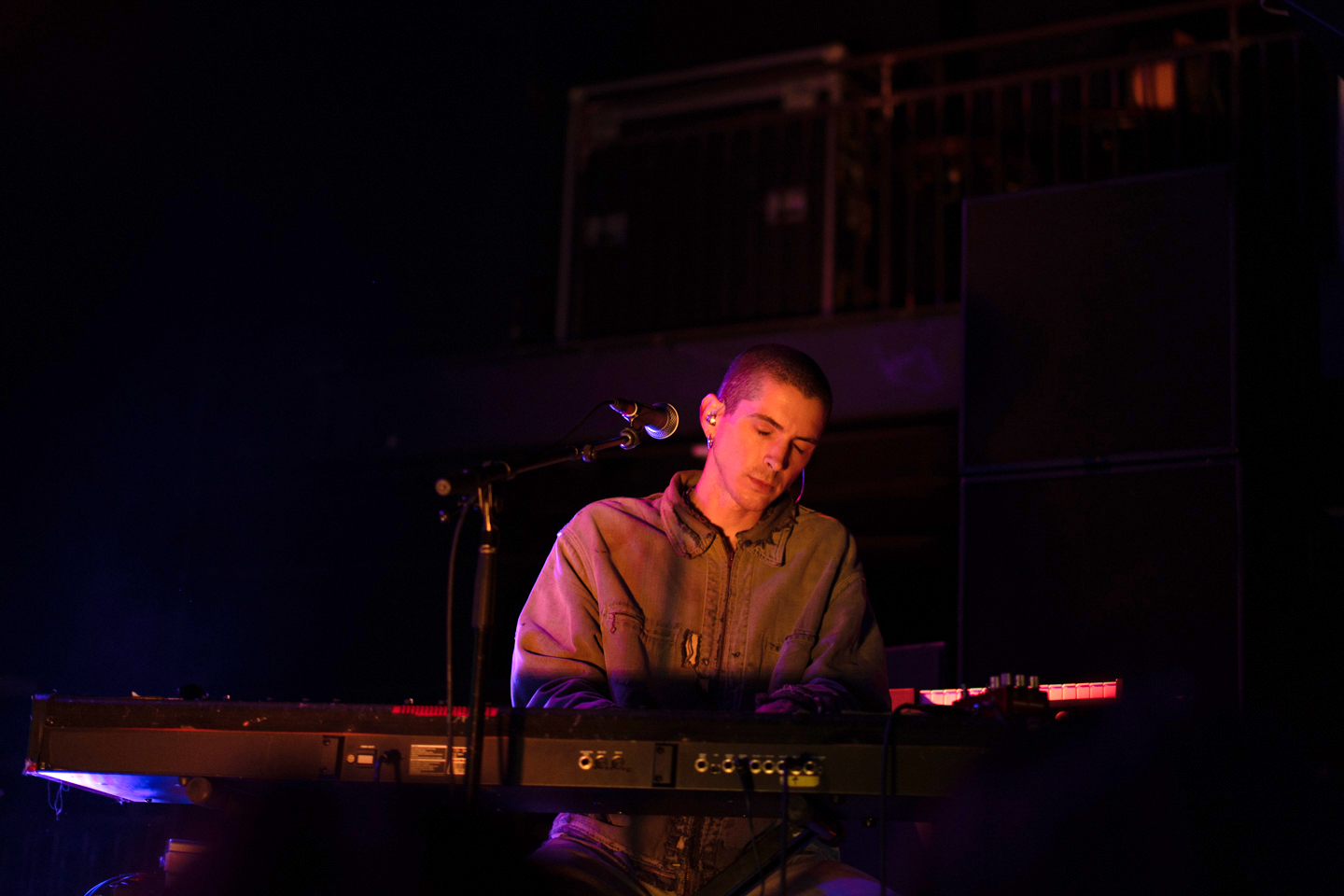 // Photo by Mika Simoncelli
There is space for four on stage, or at least the number of instruments implies this: There is a drumset, a rack of guitars, an amp for a bass, two keyboards oriented at 90 degrees to one another. But when the concert begins only three musicians slip from the curtains. The drumset is left standing alone, glowing pot-light circle green. Later the artists will shuffle; the bass guitar is left behind. Later still, the keyboard.
It is September 19 at The Sinclair and Youth Lagoon is playing. The band — led by Trevor Powers — are touring in support of Heaven is a Junkyard, which was released in June to critical acclaim. The album followed an eight-year hiatus from Youth Lagoon and a health crisis in 2021 that left Powers unsure if he'd ever be able to sing again. Heaven is simultaneously vulnerable and imaginative, deeply felt, searching.
Powers sits behind the keyboards on the right. His face might be described as expressionless, but somehow this observation feels inaccurate; or, at least, it is unimportant. There is a rigor behind his slouched form, and his posture suggests not the absence of his attention but rather its full and absolute dedication towards another end, something beyond the glare of the stage lights, beyond the details of the night and its performance.
The timbre of Powers' voice is like light in cold water. It is barely tangible, a flickering guide through lyrics that cut to the quick. In "Idaho Alien," the lead single from Heaven, Powers sings about the body after death: "Wonder who will find me / small stone in the quarry."
A cable runs back from the microphone, draping over the angled metal arm from where it falls, pitch-black to the floor of the stage. Once at the beginning and once at the end he will take this wire and with one finger unhook it, a gesture simple, unexpected, functionally superfluous. But the care with which he moves the cable, one finger below, suggests the ceremonial. There is a boldness to this delicacy on the stage: a refusal to assume the role of the rock star which every other element of this concert-hall set suggests. Throughout the night Powers plays song into song, barely pausing between to address our presence. He introduces himself and the band during "Little Devil from the Country," but this seems incidental — a confession of responsibility is besides the point. The song he interrupts to do so, however, is a highlight of the set.
By the end of the encore, he has moved from behind the keyboard to the front of the stage. So it ends: us facing him, him facing us.
// Mika Simoncelli '23.5 is a staff writer and photographer for Record Hospital. Noah Toyonaga is a guest writer and friend of Record Hospital.